Over the past few years, plastic strapping has slowly and steadily replaced steel strapping. Those who used to think steel strapping was the only dependable option to make their packages secure are changing their opinion. Plastic straps have several advantages over their steel counterparts.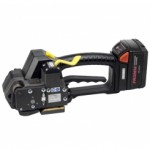 FROMM remains a leader in introducing highly effective plastic strapping options. The P327 has gained worldwide recognition because of its beneficial features. This battery powered friction weld combination tool is a highly advanced one as compared to its previous versions P325 or P326. Specifically designed for heavy strap sizes, this strapping tool is meant to deliver a power-packed performance.
Characteristics of P327:
The tool is used on Polyester or Polypropylene straps of width 5/8" – 3/4" and varied thickness in the range of .016 – .053". This is one strapping tool which is amazingly light, weighing only 9 lbs, including battery. It has capability to pull very high tension force in the range of 600 – 3500 N. Few specific characteristics which deserve special mention:
Friction Weld sealing technology that guarantees very high seal strength of up to 75%, depending on strap quality.
The tool comes with two Li-ion batteries and a charger thus ensuring higher run time than other FROMM tools.
How do you benefit by shifting to FROMM P327:
Ergonomically ideal, this strapping tool seldom gives any scope of complain. In fact, this is one tool which should be any operator's delight because of several easy-to-operate features:
The tension force can be adjusted easily thereby ensuring correct strap tension for every application
Welding time can be set effortlessly guaranteeing utmost sealing efficiency
The Lithium ion battery with user friendly charge indicator tells the operator when it is safe to remove the tool after strapping
Strapping becomes very fast as both straps can be inserted together
The entire tensioning, sealing and cutting can be accomplished by pressing a single button
The P327 is one sturdy tool which is respected for its reliable performance and high tension force. The tool doesn't require frequent repair or maintenance thus exempting buyers of additional expenses.