Advanced friction weld sealing technology makes it quite easy to produce a friction weld seal with 70% average joint strength guarantee. The reputed manufacturer FROMM has developed plastic strapping solutions armed with a battery powered friction weld sealing feature. Some of these tools are doing quite well in the worldwide market.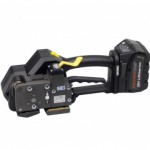 The model Fromm P330 is a great example of this technology. Those who have requirements like strapping assorted sheet metals, plate glass or coiled metal will surely benefit from this purchase. Apart from guaranteeing maximum shock absorbance, the strapping also ensures that the bundle does not rust or get damaged during transport. What is even more appealing is that the buyer stands to gain almost 50% by shifting from steel strapping.
Basic features of P330
Equipped with Lithium-ion battery technology which guarantees 200-300 straps per charge
Friction weld sealing technique ensures joint efficiency of up to 75%
Supports Polyester and Polypropylene, embossed and plain strapping with strap tension varying between 1200 – 6000 N
Strap dimension is 395 mm length, 137 mm width and 143 mm thickness
Sealing time can be adjusted to enhance seal efficiency
Reasons to settle for P330
Simple and ergonomically perfect design of the tool helps reduce operator fatigue to a great extent. It can be operated single handedly with the small handle. It is also very easy to adjust the machine in different strapping positions. Strap threading becomes easy too since both straps can be adjusted together. Tensioning force and sealing time being easily adjustable makes it a suitable option for different strapping applications. Those who don't have much faith in metal seals will surely find the friction weld sealing a much more efficient and reliable option. Wear parts of this tool are quite sturdy which minimizes repair or maintenance expense for the buyer.
In short, it can be said that P330 is a reliable strapping tool which can smoothly handle lots of production cycles without breaking down. When you are investing money on this device you can be sure of its long life as well as secure and consistent operation.