Signode is one company that has a great grip in the steel strapping and packaging industry. Its products are widely popular and used by many industries. The tools brought out by this company has been well received by this industry because of the ease of use and durability.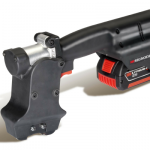 Presently Signode is considered the best in the industry for its tools; battery powered and pneumatic. The widely used Grip Pack 114 Steel strapping sealer is a product of Signode. This is the finest battery powered steel strap sealer with high tensile strapping. The Grip Pack 114 Sealer runs on lithium power. The tool is first placed over the seal and when the trigger is pulled, it quickly and neatly seals the joint. This tool has a great advantage over traditional tools because it is light weight and easily portable.
The Grip Pack 114 Sealer has been designed with the user in mind and also to increase productivity. It is ergonomically designed to counter operator fatigue, unlike some pneumatic tools. The Grip Pack 114 Sealer has also proven that it is very consistent and ensures a secure seal after every application.
Benefits of Grip Pack 114 Sealer
Light weight and durable
Lithium-ion Battery, the battery is also longer lasting
Single reverse notch joint
Weight is 7.0 lbs
200-300 seals per battery charge
The Grip Pack 114 sealer also uses the battery that is powered by lithium-ion. This kind of battery is presently considered the best in the industry for efficiency and productivity. The battery is longer lasting and holds the charge for long. It also charges very quickly once the charge is over and it take about fifteen minutes to recharge.
Like earlier models, this tool is not cumbersome and is very easily transported from one work place to another as it is very light. There is very less chance of injury to workers operating this tool.  For these reasons productivity has gone up in the industries it is used in. Customers prefer this tool as the tool does not misfire during sealing and their work gets done quickly. It is for all the above reasons that this tool has become an industry staple and widely preferred.
Industry experts believe that the days of pneumatic steel strapping tools and manual tools are being numbered because of cutting edge tools like the Grip Pack 114 Sealing tool. Allstrap carries all Signode tools. Call their customer service department and a technician will answer all your queries regarding pricing and about the tools available.