Strapping Round Objects? Go for the A452 Tensioner
Industries that have a lot of odd shaped and small packages can benefit from using the A452 tensioner. To complete the tensioning process, this tensioner alone is not enough. It has to be paired with a sealer and a cutter. A452 has an angled duck bill nose and so it has to be teamed with a push or closed seal. The A461 is the perfect pneumatic sealer to pair up with A452 tensioner. If your requirement is very small and lighter in weight then maybe a manual sealer is enough to do the job. This will also save quite a bit in costs.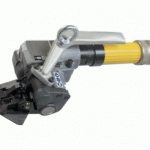 The A452 is largely used in Metallurgy, Iron and steel and construction industries, where there is a large volume of work. In industries where iron pipes and steel beams are largely used, they will find A452 really helpful. The A452 has a high tension force due to its freewheeling system, no strap tension is lost on completion of the tensioning cycle.
A452 is a very popular pneumatic tensioner and rightly so, as it is very light in weight. Operators love to use this tool which is rugged and greatly suited for mobile and stationary applications. The unique feature that makes this tool stand out is that it pulls a tension force of 8500N. So for heavy loads where high tension is required, this tool is very helpful.
The A452 can be paired with the A461 which is a sealer that can take strapping sizes .75″- 1.25″ wide by .025″ to .044″ thick and also complements the A452. Order the A452 and other popular Fromm tools from Allstrap.
________________________________________________________________________
Poly Strapping – A Cost Effective Option for the Packaging Industry
With steel strapping proving to be expensive and poly strapping being available from different sources in various options, the packaging industry is slowly but definitely switching over to poly strapping. There are several well known distributors that stock all kinds of steel and poly strapping and Allstrap is one of them.
There are many kinds of poly and steel strapping and industry experts believe that poly strapping is as strong as steel. Many industry users who discovered poly strapping recently wish to continue using it because it is very cost effective and they find poly strapping useful for both mid-duty and heavy duty applications.
Poly strapping however, does not have great elongation and so does not have the room to recover. For example, if a load is of a rigid nature, poly strapping will be the best choice. Nylon and poly propylene elongate more than polyester and have more room to recover and these two are considered better choices. Also, if a high retained tension is not a priority then poly propylene which has a lower price may be chosen.
In order to replace heavy duty steel strapping, heavy duty polyester strapping with a break strength of about 3,800 pounds is ideal. It has great elongation and recovery and this 1.25 inch strap is the best to replace the 1 ¼ inch steel strapping. This works with manual tools, pneumatic tools and automatic battery operated tools very effectively.
This strapping is also available printed with AAR 82 that is approved by the railroad.
Poly strapping is the most common strapping replacement for steel. Poly strapping weighs much less than steel. Using the 5/8"x.035" , you will find that it will weigh only .8 pounds of polyester, whereas steel will be 3.31 pounds heavier.
Industry experts feel that using poly strapping is not only economical, but it is also eco-friendly.  Steel on the other hand may be strong but comes with some disadvantages. It is not very weather resistant and rusts quickly. It also leaves marks on the package which is not preferred. Poly strapping on the other is very user friendly as it is safe to use and does not have sharp edges that cut and tear.
The industries that are looking to cut costs will do well with switching over to poly strapping which is a great cost effective option. Allstrap is a leading dealer of all kinds of strapping machines and tools. They have a wide variety of steel and poly strapping. Call Allstrap for more information on strapping and strapping tools.
_________________________________________________________________________
Want to know how to strap round objects?  That depends what type of banding you use.  For steel strapping read top, for poly banding read bottom.
There is a different process for strapping round or irregular shapes that is different then standard square bundles.  Start with steel strapping and run it through a closed (or push) strapping seal.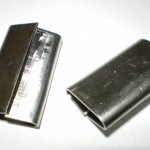 The two ends of banding come together at the seal.
Bend the lower band 180 degrees under the seal, and bring the top band through the seal.  You can pull the band hand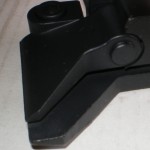 tight.  The banding loop closes like a slip knot.
Now use a pusher style tool, the nose
(a called duck bill) pushes against the seal and tensions the banding.  When it is tight, use a sealer to finish, and your done!  Combination strapping tools will tension, seal, and cut.  They are pneumatic powered to make it easy to band.
Poly strapping can now be used for round bundles as well.  The first tool to use green poyester on round objects is the Fromm P380.  This does not use the nose to push a seal like the steel strapping tools do, it uses a small base to make it easy to pull out after the banding is done.  Poly cord strapping has a tool for round cord strap, the C11 tensioner