Tensioning plays a significant role in wide types of strapping applications. The good thing is that manufacturers keep introducing better versions of previous tensioning tools, thus ensuring successful operation in limited time. At present, buyers can choose from a range of tensioning options from the pneumatic category itself like pneumatic push type tensioner, high tensile tensioner, manually operated tension controller, pneumatic strapping tool and many more.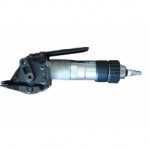 Signode is a manufacturer of packaging equipments which includes pneumatic tensioners too. Being made of high quality raw material, PN2-114 is a pneumatic tensioner for steel strapping which has gained worldwide repute. It deserves special applaud for outstanding security and reliability that it guarantees. Then it is the tool's unique ergonomics which is immensely appreciated too.
Basic features of PN2-114:
Used on Apex and Magnus steel strap of dimension 19 – 32 x 0.63 – 1.27 mm
The tool can exert tension up to 1,600 lbs. (7117 N)
Metal closed/push sealing is provided with separate sealer
Weight of the machine is around 8 lbs.
Few special features of the tool include extreme operator mobility and its ability to secure round or irregular shaped packages.
Useful features of PN2-114:
The tool is rated highly by industry experts and users as one of the best performing pneumatic push type tensioners. With unlimited strap take-up, the tool guarantees maximum production in minimum time. Some useful aspects of this tensioner which need to be highlighted are:
The tensioner is compatible with 1.25 inch Push Seal thus making the combination just perfect for angular or circular packages
Being very light, there is no need of counter balancing the tool
The tensioner guarantees adequate mobility and hence can be easily carried to the place of application
What is best about this pneumatic tensioner is its easy replacement of parts, e.g., the feedwheel can be replaced only in few minutes. Those who are on the look-out for uniform and precise tensioning will surely benefit from this tensioner. Then it is not only about pulling high tension, but the tool's flawless design takes care of utmost operator safety too.
Thus from the above discussion it is evident PN2-114 along with a matching sealer can adeptly fulfill different kinds of banding needs. However, a detailed discussion with any reputed dealer of Signode surely helps in deciding which tensioner and sealer is the perfect match for your specific requirement.